2019 Woodruff Place Home and Garden Tour – Saturday, June 29 and Sunday, June 30, 2019.
Tickets available at: EventBrite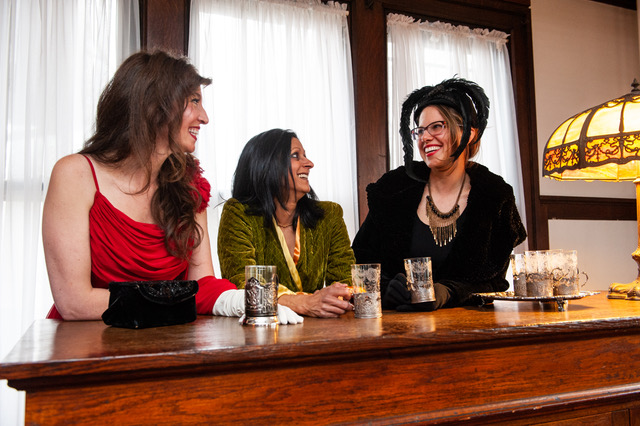 Aimee Z 1940's red chiffon evening gown has a draped neckline and matching chiffon stole with an attached rosebud create an elegant look. Long white gloves and velvet box purse for accessories.
Nisha Harkee: 1950's olive green velvet lounge ensemble featuring flared pants and a quilted jacket lined with peach satin and a matching waistline sash.
Katie Lloyd-Jones: 1920's black velvet opera coat with a quilted collar and a flared hemline. Accessorized with a felt and feather hat and vintage necklace.
Location: Backyard at 974 Woodruff Place West Drive
Time: Sunday, June 30, 2:00 p.m.
Theme: "Blue Velvet"
Commentators: Katie Lloyd-Jones and Tessie Lloyd-Jones
---
Historic Woodruff Place welcomes you to the Home and Garden Tour
Stroll the esplanades through the shade trees while stopping to enjoy the amazing homes and gardens of historic Woodruff Place. The neighborhood home tour always includes a diverse sampling of the neighborhood's architecture. You are certain to find something to love.
Although the primary purpose of the Tour is to raise funds to help maintain the unique features of Woodruff Place, another important benefit is for residents and visitors to learn the history of our neighborhood homes. Many homeowners have had the pleasure of meeting former residents of their homes who have amazing stories to share. Visitors are generous with their compliments and generally make homeowners feel even more delighted to live in Woodruff Place.
The Home Tour would not be possible without the generosity of homeowners who open their homes to the public. It would not happen at all without the hard work and dedication of neighbors and friends who make signs, ensure the neighborhood looks beautiful, host breakfasts, distribute signs, develop promotional materials, organize and participate in the fashion show, sell tickets, share old and new history at Town Hall, play music, provide taxi service to guests, act as docents, coordinate the volunteer appreciation celebration, and many more duties.
Woodruff Place also thanks other urban neighbors and neighborhoods who support our tour by encouraging attendance.
Debbie Pidgeon, Chair of 2011, 2013, 2015, 2017 Home and Garden Tours