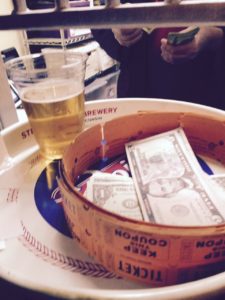 The Historic Woodruff Place Foundation held a successful "Casino Night" fundraiser in February. What started many years ago as a friendly Bingo Night to cure the Winter doldrums, has evolved into a Woodruff Casino that rivals the Bellagio! Some say our fountains are better. Neighbors and friends bought chips, gambled, imbibed, and used their winnings to bid on silent auction items. If you missed it this year, the theme was Mardi Gras. Everyone left with beads, and they got to keep their clothes on. Cajun style food and drinks were served, and many participants dressed in colorful Mardi Gras outfits.
We'd like to thank all the mostly downtown businesses who supported us with gift certificates and other goodies for the silent auction. Special shout out to MacNivens, Mass Ave Pub, and The Cosmic Chrome Café for their significant donations.
Woodruff Casino is part of our biennial fundraising efforts for our non-profit foundation. This year, our other major fundraiser will be the Progressive Dinner in December. We alternate Woodruff Casino and Progressive Dinner with the Home Tour every other year. Stay tuned for our next Casino Night in early 2020!